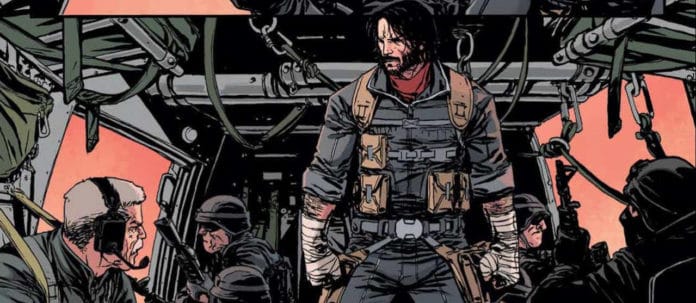 Netflix vient d'annoncer la mise en chantier d'une adaptation en film live action et anime de la bande-dessinée BRZRKR créé par Keanu Reeves.
Exciting news! Netflix is developing a live action film AND follow-up anime series based on Keanu Reeves' BRZRKR, a brutally epic saga about an immortal warrior's 80,000 year fight through the ages. Reeves will produce and star in the film, and voice the anime. pic.twitter.com/RVWEuBCXTJ

— NX (@NXOnNetflix) March 22, 2021
Reeves jouera dans les deux adaptations, et les produira également.
« BRZRKR est une saga brutalement épique sur le combat d'un guerrier immortel de 80 000 ans à travers les âges. L'homme connu uniquement sous le nom de » B « est mi-mortel et mi-dieu, maudit et contraint à la violence… même au sacrifice de sa santé mentale. Mais après avoir erré sur la terre pendant des siècles, B a peut-être finalement trouvé un refuge – travaillant pour le gouvernement américain à mener des batailles trop violentes et trop dangereuses pour quiconque. En échange, B recevra la seule chose qu'il désire – la vérité sur son existence sanglante sans fin… et comment y mettre fin. « 
BRZRKR est une série limitée de 12 numéros basée sur l'idée originale de Reeves qu'il a développée avec Boom! Studios depuis longtemps. Co-écrit par Reeves et Matt Kindt. La bande-dessinée a finalement été lancé le 3 mars où le premier numéro s'est déjà vendu à plus de 615 000 exemplaires, ce qui en fait le premier numéro le plus vendu en près de 30 ans.
Pour le moment pas plus détails sur le début de production.