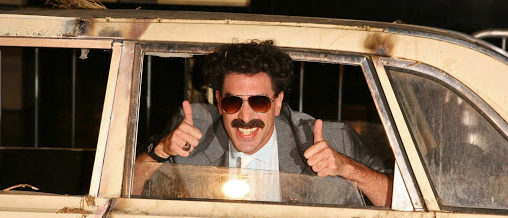 Selon Collider, la suite de Borat, film de 2006, avec Sasha Baron Cohen dans le rôle principal aurait une suite de déjà tournée, et même projetée.
Cependant, cette nouvelle n'a rien de surprenant, début août, Sasha Baron Cohen avait été aperçu en Borat dans les rues de Los Angeles avec une équipe de tournage, mais personne n'avait d'informations si c'était un reportage ou un nouveau film.
Aujourd'hui, on sait qu'il s'agit bien d'une suite, et elle aurait été déjà projetée à des studios. Malheureusement, on doute 20th Century Studios impliqué dans cette suite. Certains pensent, cette suite sera projetée avant les élections avec comme cible les jeunes électeurs.
On ne sait pas l'histoire de cette suite mais son titre est 'Borat: Cultural Learnings of America pour Make Benefit Glorious Nation of Kazakhstan' sous la direction de Larry Charles.
Il se pourrait cette suite voit le jour sur une plateforme de streaming, et soit lancée à l'image directement après l'annonce comme l'a fait Netflix avec Cloverfield Paradox. Sauf que pour le moment, il y a aucun indice sur le studio ayant repris le projet, ou même la plateforme de streaming possible.